The Bible For Dummies
Listed by Members of Bible Passions
Calling All Readers! Like The Site Library?
Help Spread The Word...Tweet Our Crazy Awesome Awesomeness!
Sponsored Ad
go back to library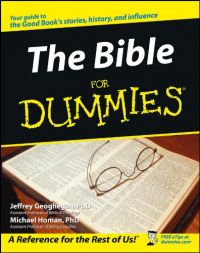 (click to view book on amazon.com)



Jeffrey Geoghegan, Michael Homan
Ninety percent of Americans own a copy of the Bible, and while it's the most widely read book, it's also the least understood. Regardless of your religion, understanding the Bible brings much of Western art, literature, and public discourse into greater focus—from Leonardo da Vinci's "Last Supper" painting to the Wachowski brothers' The Matrix movies. People have historically turned to religion to deal with tragedy and change, and with the right insight, the Bible can be an accessible, helpful guide to life's big questions.

The Bible For Dummies appeals to people of all faiths, as well as those who don't practice any particular religion, by providing interfaith coverage of the entire Bible and the often fascinating background information that makes the Bible come alive. You'll find answers to such questions as:
Where did the Bible come from?
Who wrote the Bible?
How is the Bible put together?
Follow the history of the Bible from its beginning thousands of years ago as tattered scrolls to its status as the bestseller of all time. The Bible For Dummies covers these topics and more:
Ten people in the Bible you should know
The Hebrew Bible
The Apocrypha's hidden treasures
What's new about the New Testament
Israel's wisdom, literature, and love poetry
The Bible's enduring influence
The prophets: more than fortunetellers
Discover the world's all-time bestseller in an entirely new light. Whether you're interested in broadening your spiritual horizons, uncovering the symbolism of Western culture, or gaining a deeper understanding of the book you grew up reading, The Bible For Dummies has all the information you need to navigate this ancient and fascinating book.

People who list this book:


go back to library
Recommended Bible Sites
Bible Information Sites
Bibles
Bible Chat Sites
Bible Blog Sites
Miscellaneous Bible Sites
Christian Dating Sites
Dating By Denomination
Personals / Chat Sites
Funny Sites