Bible Passions: Make Money Online*
Interested in working from home?
Curious as to whether or not there are legitimate money making opportunities online?
Check out the sites listed below to see if any match your interests (or passions) in life.
MAKE MONEY PROMOTING OUR SITE
Bible Affiliate Program
Bible Passions is part of the Passions Network network of sites, and as such, is part of the Passions Network Affiliate Program. If you have a website focused on the 'Bible' community, you can (potentially) make money by promoting our site(s). Details of the program are outlined on the Affiliate page linked above.
MAKE MONEY COMPLETING TASKS ONLINE
Amazon Mechanical Turk
Amazon has created a site based on the idea that there are certain types of tasks better suited to humans than computers. As a 'mechanical turk worker', you can work from home, choose your own work hours, and get paid for doing good work. Examples of tasks include: Selecting the correct spelling for search terms, finding the item number for a product within an image, rating search results for different keywords, choosing categories for products. While the payout for any individual task is very small, there are large numbers of tasks are available, which should make it a little easier to find projects of interest.
MAKE MONEY SHOPPING FOR OTHERS VIA INSTACART
Instacart
Instacart provides a number of 'shopper options' for people throughout the country. While this type of job may not be perfect for everyone, it is perfect for some. Check out the details of the Instacart shopping system to see there is an option for you in your local area.
MAKE MONEY SELLING PHOTOS ONLINE
In the past, only professional photographers had the equipment, the knowledge and the ability to make a living from selling photos, but all that has changed in the last few years. The sites listed in this section encourage anyone with a camera and a good eye to upload their photos, which are then made available for purchase. Each site has it's own restrictions and payout details, so it is important to take the time to choose the site (or sites) that might be a good fit for your photos. Rather than detail the differences in each site, we are listing sites recognized as leaders within the online photo marketplace.
Shutterstock

123RF

Big Stock Photo


DreamsTime

PhotoStock Plus

MAKE MONEY PLAYING VIDEO GAMES
VG Market
OK, this one shouldn't really be listed on this page, because technically, you wouldn't be 'online' when you made money doing this...but we just think it's cool, so we are listing it anyway. We have no idea what level of compensation is available here, but in all likelihood, it's small. The cool thing about this opportunity though, is that 'playtesters' are able to play unreleased video games. The goal is to give the video game developers more information on what is and isn't working within a specific game. As mentioned, this opportunity is a little different than the others listed on this page though, in that the video game testing is not done online...but rather 'in-person'. For the right individual, this could be a fun way to make a little extra cash, and (probably more importantly) enjoy bragging rights (for being able to play video games that haven't been released yet).
Thrifty? Budget Conscious?
Join Frugal Passions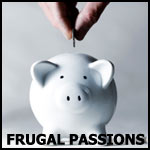 Saving is Sexy!

*Aside from providing a network of free online dating & social networking community sites, Passions Network would like to help those members of the network who are looking for ways to make money online. The sites listed on this page have been chosen based on an expectation that they may be of interest to members of Passions Network who are interested in online money making opportunities...although no guarantees are made as to the money making potential of any individual site or service for any individual Passions Network member.











NO STINKY DATES Amazon Ads




Recommended Bible Sites
Bible Information Sites
Bibles (on Amazon)
Bible Chat Sites
Bible Blog Sites
Miscellaneous Bible Sites
Christian Dating Sites
Dating By Denomination
Personals / Chat Sites
Funny Sites