'Bible' Dating Sites*
Along with Bible Passions (the site you are on now), the sites listed below all focus on connecting Christian singles with others of faith. While most of the sites are not exclusively focused on the Gospel, there are a few. The other sites are all specifically focused on bringing together single Christians though, so even if the primary focus of the site is not the Bible, it goes without saying that the Christian members within the sites are believers. If you are looking for like-minded Christian singles who share your beliefs and who share your faith, then there are a LOT of sites to choose from, aside from Christian Passions.
AD

Gospel Lovers
New Testament Lovers Unite At Gospel Lovers
Find Gospel Lovers online! Single Black Christians want to meet new friends of the same religion. Connect with them at Gospel Lovers and start dating!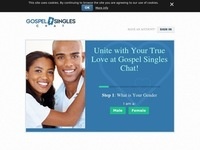 Gospel Singles Chat
Break Every Chain with Gospel Singles Chat
Sing a song of love at Gospel Singles Chat and people will flock to you! Enrich your life with new songs and new people - and open your heart for new possibilities!

Over 60 Christians
Start searching 1000's of Christian Seniors in your area today!
If you are a senior interested in dating another senior who shares your Christian faith, then Over 60 Christians could be perfect for you. Meet others in fellowship and enjoy the opportunity to interact online with other Christian seniors. Who knows, maybe you will start a new chapter of your life with someone you meet on this site.

Christian Lifestyle
Never Settle!
Find your Christian soulmate on Christian Lifestyle, where members are seeking a real relationship with a foundation built on Christian faith and belief!

Christian Online Personals
"Connect With Christian Singles"
Christian Online Personals is an online dating site for Christian singles interested in finding others who share their faith. Members can browse local profiles or search in different locations prior to a visit. The site is designed to allow members to arrange Christian dates wherever they are.
AD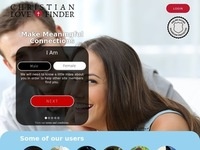 Christian Love Finder
Make Meaningful Christian Connections
Christian Love Finder has been built specifically to connect like-minded Christians seeking a long-term relationship. The first step is to register and begin meeting other members. After that, it is God's hands.

Christian Disabled Dating
"Meet Disabled Christian Singles Today"
No one is perfect, inside or out. Disabled Christian Singles is for Christians dealing with a disability of some sort and for Christians who don't judge a book by it's cover. Find the person God meant for you to find.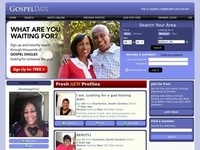 Gospel Date
Start searching 1000's of Gospel Singles in your area today!
As you can tell by the MANY different Christian dating sites listed here, there are a lot of options in what site is the best fit for any specific individual. Gospel Date is a Christian dating site for singles who revel in gospel music. If you are looking for others who love to share their faith through music, this may be the site for you.

Christian Chat City
Find Other Christians And Make New Friends
"Are you a devout Christian but are having trouble meeting other Christians who are worth your time and interest? Luckily, when one door closes, another one opens and that is just what Christian Chat City is - a virtual door to an online world where Christian men and women are waiting to get to know you better!"

Dating Christian Singles
Looking For A Meaningful Faith-Based Relationship?
Dating Christian Singles is built for those looking for a genuine relationship based on honesty and truth and above all, a shared belief in God and his Holy Word.
AD

Meet Black Christian Singles
Find Black Christian Singles In Your Local Area
Meet Black Christian Singles has been built specifically to help God-loving black Christian singles chat and connect with other like-minded people. Your soul mate may not go to your Church (yet). Maybe that person is here.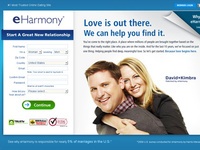 eHarmony
"Meet Someone Unforgettable On The #1 trusted dating APP"
Started in 2000, eHarmony is one of the oldest and well know dating sites online. While not solely a 'Christian dating site', they have a large number of Christian members. The registration process can be daunting considering the number of questions asked, but it is worth it for many, especially when they find their special someone.

Christian Dating Connexion
Meet Fellow Christians
If you are looking for other Christian singles who actually care about Church and the Bible and who truly believe, then Christian Dating Connexion may be where you find the person you have been looking for.

Meet Gay Christians
Find Companionship and Love!
"Connect With Christian Men Who are Committed to Their Faith and to Finding Someone Like You to Date! Share Your Life With Someone Who Shares Your Beliefs and Values Today!"

Gay Christian Dating
Meet Gay Christian Men!
Connect with fellow gay Christians in your area. If you have tried the Apps, you already know it can be very difficult to find other gay Christian men who share your values and your faith. You may find the person you are looking for on Gay Christian Dating.

Christian Cafe

Big Church
Meet Others Who Share Your Spiritual Beliefs
Join Big Church and share the blessing of love with someone who shares your faith and your values!
AD

Divorced Christian Singles
Meet Divorced Christians!
Aside from sharing a fundamental and important foundation based on Christian faith, the members of Divorced Christian Singles also share the fact that they know what it is like to have gone through a marriage only to find themselve divorced. Find others who understand AND who share your spiritual beliefs.

Christian Cafe
"Connect with other Christian singles right now!"
Christian Cafe was founded in 1999 and has led to over 25,000 marriages as a result of members meeting on the site. If you are looking for a partner seriously interested in a committed relationship, this may be the site for you.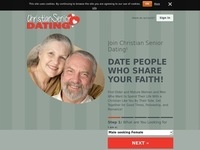 Christian Senior Dating
"Date People Who Share Your Faith!"
"Find Older and Mature Women and Men Who Want to Spend Their Life With a Christian Like You By Their Side. Get Together for Good Times, Fellowship, and Romance!"

Date A Gay Christian
Find Gay Christians Here!
If you are gay Christian and you are looking for a fellow gay Christian who shares your faith in God, then most gay dating sites probably aren't a good fit. Date A Gay Christian has been designed specifically to help connect like-minded gay Christian singles though.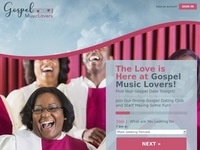 Gospel Music Lovers
Find Your Gospel Date Tonight! Join Our Online Gospel Dating Club and Start Having Some Fun!
If you sign up at Gospel Music Lovers, you'll be able to talk 24/7 about CeCe Winans, Yolanda Adams or Marvin Sapp with our users. And you might even get a date!
AD
*Sites listed on this page are a combination of ads, affiliate related Sites and general non-partnership related sites that match the theme of Bible Passions.